Artistic Lines
from Joan Justis
February 2014
http://joanjustis.com
    Renoir's (1841-1919) painting Luncheon of the Boating Party intrigued me upon finding the novel by that name on the new book shelf in our local library. I discovered that the site of the painting is the terrace of La Maison de Fournaise on the Ile de Chatou in the Seine.  Each model in this painting "Le Dejeuner des Canotiers" can be identified by name and as his friends.  His future wife is on the left.
Also on the island was La Grenouillere, which both Renoir and Monet painted in 1869.  It was then a resort on the Seine near Bougival west of Paris.  Parisians were able to take a train to a station nearby and enjoy the baths (bains), single paddle boats (perissoires), and the floating cafe.  http://www.svreeland.com/lbp-background.html  Be certain to look at this excellent link.
The author Susan Vreeland quoted Renoir in the epigraph to her book.  I wanted to find the source of that quote and began exploring some beautiful biographical books.  His son, Jean Renoir wrote a delightful biography filled with experiences and remembered teachings of his father entitled Renoir, My Father.  And if you read Vreeland's novel, you will want to have beside you Barbara E. White's Renoir, His Life, Art, and Letters, a well-known book that can be found in a library.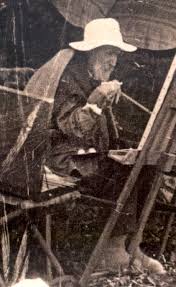 Renoir was a kind, sunny, passionate man. He loved his wife and three sons.  He had many friends including Manet, Monet,    Morrisot, Cezanne. He struggled much of his life with rheumatoid arthritis.  Yet he painted still in the end with rags wrapped around his palms with a brush pressed into his crippled, frozen fists. Months before he died he was carried through the Louvre to see the installation of one of his paintings.
He is quoted in May 1912 Scibner's Magazine by an American writer Walter Pach. "Nowadays they want to explain    everything. But if they could explain a picture it wouldn't be art. Shall I tell you what I think are the two qualities of a work of art? It must be indescribable, and it must be inimitable….The work of art must seize upon you, wrap you up in itself, carry you away. It is the means by which the artist conveys his passion; it is the current he puts forth which sweeps you along in his passion."
Enjoy his paintings on this sight. Notice that his style changed during certain periods of his life.
 http://www.pierre-auguste renoir.org
La Grenouillere by Pierre-Auguste Renoir   La Grenouillere by Claude Monet