Artistic Lines
from Joan Justis
September 2016
joanjustis.com
#joanjustisstudios
From Sketch to Painting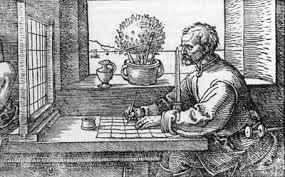 For centuries artists have been devising ways to enlarge or reduce sketches for paintings, murals, drawings and prints. Albrecht Durer's drawing (dated 1538) shows "the drawing frame" and demonstrates the use of the grid to make a drawing of a posed woman. The purpose of his grid is to envision the three dimensions as two dimensions to be recorded on paper.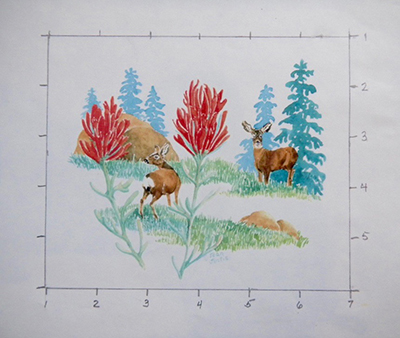 However, if the grid lines were traced onto the paper, the artist could then increase or decrease the size of each square on a canvas, mural, or paper and record what was in each square, allowing him to retain the correct proportions of his sketch.
Artists also used mirrors and lenses to project a larger version of their sketches. I use an Artograph opaque projector to project a small sketch or portions of sketches onto my paper.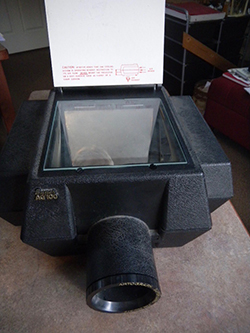 Another invention is the pantograph.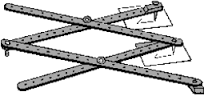 A pencil is placed at one end and a tracing point on the other. As the artist traces over his sketch the pencil on the other end creates an enlarged drawing. Or it can be reduced. This tool is still available and has been developed into a complex machine.
Harry Anderson was a mathematician and an accomplished magazine illustrator of the mid twentieth century.  Examples of his work in an exhibit at the LDS Church History Museum in Salt Lake City, Utah, demonstrates how he made measured cuts along the edges of his casein on board sketches and then inserted into the cuts black thread to create a grid.  His painting for the New York World's Fair Mormon Pavilion 1964 "Christ Ordaining the Twelve" measures five feet by twelve feet and began with a small sketch.  He left a beautiful legacy of paintings of the life of Jesus Christ for his church, the Seventh Day Adventists, and for the Church of Jesus Christ of Latter-Day Saints. A digital version of the exhibit is available at https://history.lds.org/exhibit/harry-anderson-legacy-in-the-making?lang=eng
Another interesting article featuring the history of the artist's tools can be found at http://www.18thc-cities.paris-sorbonne.fr/The-pictorial-field-of-vision-and?lang=fr#2.1
The photos in this post came from public images on google or my camera.
Follow me on Facebook Joan Justis Fine Art and on Instagram #joanjustisstudios.