Artistic
Lines
from Joan Justis
October 2014
joanjustis.com
Flat two dimensional shapes can express movement, depth, layers, space. They can be arranged to stimulate any emotion. Composed into works of art, they become the artistic expression of the artist.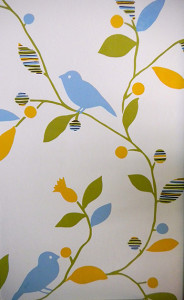 It took me three days on the internet to find the right wallpaper for our bathroom walls. It   had     to be contemporary and whimsical. I finally found the perfect pattern. I sometimes stand by the sink for extra minutes analyzing why I like the colors and the movement up my wall. I'm smiling inside and feeling satisfied with my find, because I am a bird watcher and a gardener. http://www.burkedecor.com/collections/contemporary-wallpaper/products/birds-leaf-trail-wallpaper-from-the-eco-chic-collection-seabrook-designs-1
The pattern also reminds me of the later works of Henri Matisse. (1869-1954) Slowly deteriorating physically after cancer surgery, he spent less time painting and discovered the art of cutting and arranging cut shapes from paper that had been painted brilliant colors. With the help of his friend, his walls became his gardens. The pinned up shapes would be arranged and rearranged sometimes for months to suit his sense of composition. With Teriade, a printer, he eventually published a book which he entitled Jazz. He hand wrote the text in large script to complement the pages displaying his cutouts. Please visit the following beautiful site, but note the top gray bar explaining the copyright of the images. http://www.henri-matisse.net/cut_outs.html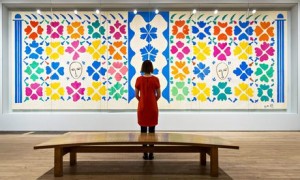 The Tate Modern art museum in London just closed a highly successful showing of his cut paper works. http://www.theguardian.com/artanddesign/2014/apr/20/henri-matisse-the-cut-outs-tate-modern-review
-laura-cumming
With these images percolating in my brain, I found my own images that I needed to paint. They are the artistic expressions of how I feel about what is around me. I decided to set two rules to encourage a more abstract outcome than I am used to painting. One, the shapes would be flat without modeling. The shapes themselves would create the effect of the
third dimension. Two, I would leave a line of background between each shape to define the shape. I wrestled with the colors, trying one and wiping it off, then another until I could feel that I had discovered exactly the right one. Painting of lilies, strawberries, and bumblebees Bringing tall stalks of my hollyhocks into the studio, I am now painting the third in this series.
A print of Lilies, Strawberries, and Bumblebees is available on joanjustis.com under Products.