Artistic Lines
from Joan Justis
January 2018
website joanjustis.com
joan@joanjustis.com
M. C. Escher and Negative Space
The Dutch artist Maurits Cornelis Escher (1898-1972) is well known for his drawings and prints of impossible space. "How did he do that?" is a common question upon viewing his works. The Brigham Young University Art Museum in Provo, Utah is currently displaying a collection of his prints: M.C. Escher: Other Worlds.  The show will continue through May 19, 2018.
Living his life in the Netherlands, he was educated at the School of Architecture and Decorative Art.  He chose graphic arts to explore his ideas of spatial planes. He created lithographs, woodcuts and engravings of his imaginative drawings of staircases, animal patterns, landscapes, and skies.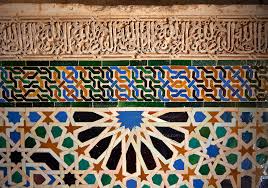 In his travels he studied ancient tile patterns at Alhambra.  He explored geometry, symmetry, and tessellations, which are repeat patterns with no overlapping or empty space and no end.   His tessellations used the negative space to fool the eye and create illusions.  He was also fascinated with different planes of space portrayed together on a two dimensional surface.  His perspective drawings carried one off to the different planes.  His art creates a sense of wonderment and awe at what his mind could conceive.
Hoping to find a photo of one of his prints for this newsletter, I discovered that International Copyright laws protect all of the work of M.C. Escher, as well as his spoken and written words.  Any reproduction of his work, including downloading, is prohibited without the express written permission of  The M.C. Escher Company, B.V.
So in order to have an illustration, I thought it would be fun to try one of my own tessellations. I realized that I had to create two drawings, the second filling the negative space surrounding the first.  After several efforts, I used chairs and elevator arrows.  To make it more challenging, I drew attention to the arrows with red.  Is it an apartment building, an elevator wall? But ha! It's a pile of chairs. Elementary, but fun to play with. Try it! And check out his prints on the following sites.
http://moa.byu.edu/other-worlds-the-art-of-m-c-escher/
http://www.mcescher.com
https://en.wikipedia.org/wiki/M._C._Escher
https://en.wikipedia.org/wiki/Mathematics_and_art