Artistic Lines
from Joan Justis
September 2013
joanjustis.com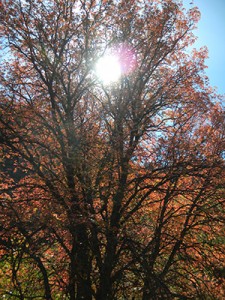 I have found two very interesting sites for creative thinkers. The first is http://www.apartmenttherapy.com/how-well-do-you-see-color-173018
I have looked at the apartment therapy site before. Exploring this British decorating site is fun in and of itself, but my son linked me to "Take the Test: How well do you see color?" I have often thought that it is possible that others do not see colors the way I do. There is really no way to know. However, I could see subtle differences in the test colors. I scored a 4, missing four in the very end of the warm oranges. Try it. It's quite fun. Just line them up in order of warm and cool.
The other site is the website of David Dunlop http://www.daviddunlop.com, who paints creative images using oil on foil, manipulating photos, and layering of colors and patterns. His site provides YouTube Videos, and an Art Blog demonstrating his techniques. What interests me is his knowledge of the techniques and compositional rules of renowned artists, which is evident in his videos and his PBS series on television entitled Landscapes Through Time.
Spend a few minutes with each of these sites and learn some new ideas.
P.S. Our mountains have turned red and are already topped with snow! There's those warm oranges I missed!