Artistic Lines
from Joan Justis
July 2015
joanjustis.com
SELECT READ MORE AND CLICK ON IMAGE TO PRINT COLORING PAGE!
       Towards the end of summer new boxes of crayons are on display in the stores at sale prices. And as a first grade teacher I would label 26 boxes of delicious new crayons with the children's names~always with a soft yearning for my own box.
Now I have discovered that it is alright to color again~as an adult! I was sent a video of Johanna Basford creating coloring books for adults. Parade magazine featured the hobby in their Sunday Magazine. Apparently it is calming, inexpensive and unmessy.
But for me~it's the color. I love to lay down the colors thick and creamy into the shapes and watch the drawing become my own creation. And the names~carnation pink, dandelion, scarlet.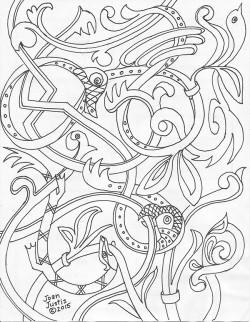 So I created a coloring page for you! It is derived from my Norse heritage, but drawn with my imagination. Click on the image above, find some crayons and make it your own.
Would you like another coloring page?  Make a request below!