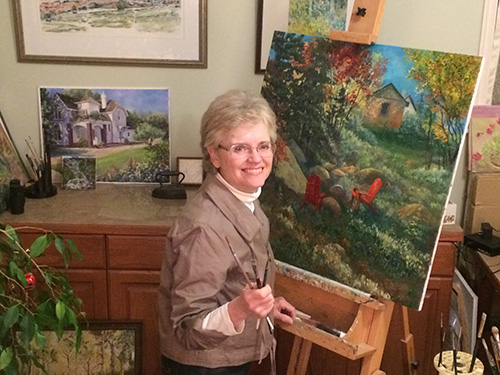 WELCOME TO MY STUDIO!
I love to learn, to teach and share, and to create pictures. My husband and I live in a green valley filled with dairy farms and patchwork fields of hay, corn, and alfalfa. We are surrounded by meringue topped mountains forested with aspen and mountain maple. Stream carved canyons radiate out like compass points.
While growing up in Chicago, I drew pictures with watercolor and crayons of snowy mountains, deer and cabins, never realizing that some day I could live here. When I was small my mother taught me the names of flowers and trees and how to protect rabbits cuddled in a furry nest in her backyard garden.
As a college student I finally decided to be an elementary teacher, because I could study everything! as I prepared for the degree. And I could teach little people how exciting it is to be alive. We have seven children, many who are also educators and busy raising our grandchildren.
Numerous artists paint nature with beautiful colors and good design and knowledgeable composition. However, when an artist has painted enough work, the images begin to reflect the inner self. As for me, they are a lens that reveal my experience, knowledge and gratitude for God's creations. My paintings reflect what I find meaningful in life: God, His plan for us, His creations, and family. I value integrity, education, and service. I imagine that anyone looking at my work senses this and sometimes identifies with who I am. I paint to share the pleasure I find in what I see around me. The painting is successful, when I feel I have portrayed my experience. And because I was born with an artist's spirit, I find joy in the process and cannot imagine spending a day without creating something!
"If there is anything virtuous, lovely, or of good report or praiseworthy, we seek after these things." from  The Articles of Faith of The Church of Jesus Christ of Latter-Day Saints  http://lds.org
RESUME
Education:
Master of Fine Art, Utah State University, 2001
Bachelor of Art, Brigham Young University, 1966
Watercolor with Nita Engle, 1986
Watercolor with Tony Couch, 1986
Watercolor with Christopher Schink, 1990
Oil with Glen Edwards, 2007-8
Occupation:
Watercolor workshop instructor, Wyoming and Utah
Teaching Assistantship-Instructing Basic Drawing, Utah State University, 1998-2001
Esprit Art Center-owner and instructor of child and adult classes in drawing and watercolor, Wyoming, 1984-1993
First Grade Teacher, Cache County School District, Utah, 2001-2010
Offices:
Vice President, Utah Watercolor Society, Cache Valley Chapter, 1999-2000
President, Wyoming Watercolor Society, 1987-1989
Board Member, Wyoming Watercolor Society, 1989-1993
Grants:
Wyoming Council on the Arts Individual Artist Grant, 1989-1990, Created slide program: History of the American Watercolor
Utah Arts Council Teacher Initiated Project 2007-2008, mentored by Glen Edwards in oil painting
Awards:
Best of Show, Utah Watercolor Society-Cache Valley, 2003
Utah Art Council Traveling Exhibit 1997-98, 1998-99
Black Hills Invitational Traveling Exhibit 1991-93
Clara Ely Award International Art Show Texas, 1990
First Premium, Professional Watercolor Division, Wyoming State Fair, 1986
First Prize, Wind River Valley National, 1985
Juried Exhibitions:
Salon d'Automne, Logan Fine Art Gallery, 2016
J.F. Prince Gallery Christmas Show and Sale 2010, 2015, 2016
Utah Watercolor Society Cache Valley Annual, 2003
Eccles Art Center Statewide Exhibition, 2000
Utah State University Faculty Exhibit, Myra Powell Gallery, Ogden, Utah, 2000
76th Annual Spring Salon, Springville, Utah, 2000
Eccles Art Center Printmaking Exhibition, 2000
Utah Watercolor Society Spring Show, 1997, 1998
Wyoming Western Images, Murisaki Gallery, Tokyo, Japan, 1992-3
Black Hills Invitational, South Dakota, 1991
International Art Show, Brownsville, Texas, 1990
Nicolaysen Museum Juried Watercolor Exhibit, Wyoming, 1989
Hats, Chaps, Buckles and Boots, Galeria Mesa, Arizona, 1989
Seven State Regional, Cheyenne, Wyoming, 1988
Wyoming State Museum Watercolor Traveling Exhibit, 1985, 1986, 1987
Wyoming Watercolor Society Annual Exhibit, 1988, 1989, 1990, 1991
Solo Shows:
1984, 1986, 1989, 2002, 2003, 2011, 2015, 2016
Galleries:
Artists of the Rocky Mountains Fine Art Catalogue, 1990
French Creek Gallery, Laramie, Wyoming, 1991-98
Williams Fine Art, Salt Lake City, Utah, 1995
European Linens and Design, Salt Lake City, Utah, 1995-99
Cody Rodeo Company, Cody, Wyoming, 1996-2003
High Country Accents, Jackson Hole, Wyoming, 1997-2003
J.F. Prince Gallery 2010-17
Logan Fine Art Gallery 2010-2017
IHC Budge Clinic Pediatrics 2015+
Fuhriman's Framing and Fine Art 2015, 2016